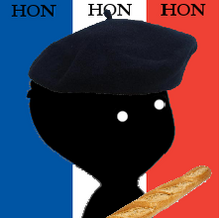 The saying #limboonlyforfrench is a sarcastic statement that says that speedrunning LIMBO is only for people who have the French nationality. The saying originates from the fact that all the top runners are French
 In any% Normal Route out of the seven runners who managed to achieve a sub42 time, only one - Buckeye, who is American - is not French

Currently seven out of the top 10 runners for normal route are French, wh

ich Stefan and RainingEndavor (both Canadian) being the only one besides Buckeye

Out of a total of 45 currently registered runners in the leaderboards, 22, almost 50%, are French

Three out of the ten registered runners for the Hard Route are non-French (Zet, Stefan, hppylttletrees) and the 9 eggs route only has two non-French runners: Darth Colette, who is, however, Suisse French and klekotek who is Hungarian
As of 2017, these stats have mostly shifted away from these French trends:
Out of the 16 sub-42 runners in Normal route, half are non-french.
In the top ten for Normal route, only 3 now are French - Melegant, Celulith, and Yajijy.
Out of the 83 players of the game, 27 are French.
In the 16 registered runners for hard route, 8 are non-French. For the 9-eggs route, 9 out of 17 are non-French
Ad blocker interference detected!
Wikia is a free-to-use site that makes money from advertising. We have a modified experience for viewers using ad blockers

Wikia is not accessible if you've made further modifications. Remove the custom ad blocker rule(s) and the page will load as expected.